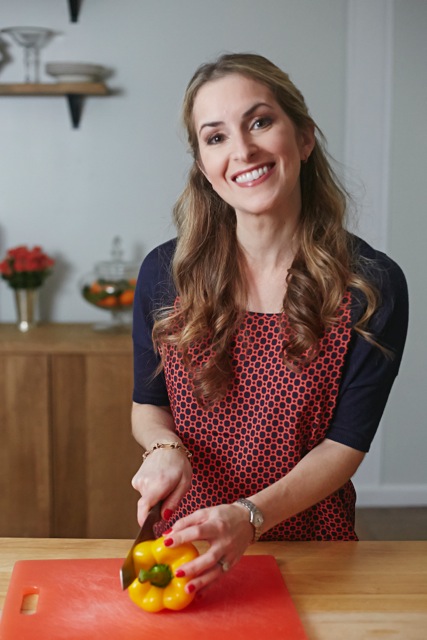 A Real Energy Challenge Chat Frances Largeman-Roth
During our Real Energy Challenge this month, we're bringing you healthy tips from friends of Peeled Snacks to inspire and encourage you to live your healthiest life!
Frances Largeman-Roth, RDN, is a best selling author, nutrition expert and frequent contributor to national TV programs such as Good Morning America and The Today Show. We caught up with the mom of three to chat about her favorite weeknight meal recipe and practical tips for staying healthy each day.
We love your new book, Eating in Color. What inspired you to write it?
When my oldest daughter, Willa, was a toddler, she started becoming extremely picky. Her diet became very beige—chicken, cheese and pasta—and I didn't feel good about it. I realized that to get her excited about eating fruits and vegetables, I was going to have to get creative. Telling her that broccoli was good for her wasn't going to cut it!
Kids eat with their eyes first, so if it's pretty and colorful and looks fun, they'll try it. Lots of grownups need extra motivation to eat more color too, and the recipes are definitely geared for the whole family to enjoy.
Watch a video trailer about the book here.
We all know preparing healthy meals filled with fruits and vegetables can be difficult on weeknights. What is one of your favorite weeknight meal recipes?
I love taco night! I put out all the fixings: grilled shrimp, black beans, shredded red cabbage, cheese, diced avocado, salsa, sour cream and lime wedges and let everyone build their own tacos. If kids have some control over their food, they're much more likely to eat it.
What is one of the biggest reasons you see people failing to meet their healthy eating goals, and how can they resolve it?
Instead of dedicating themselves to those small, everyday changes like eating healthy and getting regular exercise (which can seem boring and ineffectual), they look for quick solutions that sound sexy and promise instant results. They may actually get a short-term benefit, but it won't last long. You really have to make lifestyle changes and commit yourself to them to get lasting results.
Are there any health mantras or philosophies you subscribe to?
Every day is a brand new chance to start taking care of yourself. I also like to think of food choices in these terms: 90 percent fuel, 10 percent fun. This means that 90 percent of the food you eat on a daily (or weekly) basis should provide your body with the fuel it needs for growth (kids) or repair (adults). But you can keep 10 percent of your calories for fun! That doesn't mean junk, but rather things like chocolate, ice cream and Champagne.
What did you snack on today?
I'm a big proponent of snacking smart! I had a handful of whole almonds this morning and will probably reach for a Fuji apple this afternoon. Snacking helps me stay energized and keep up with my super energetic kids.
Thanks, Frances! Enter a giveaway to win Eating in Color and find more healthy tips from on our Facebook page all month long.