Thank you for your interest in Peeled Snacks. Before publishing or displaying our assets, please contact us. Please do not modify, deface, superimpose, or otherwise alter the brand's files made available on this site.
In publications, please refer to the brand by its full name "Peeled Snacks." You can download our snack photos and logos here. For additional assets such as press clippings or any other requests, please contact us.
If you'd like to feature us on your blog or host a giveaway, please email us or fill out this form.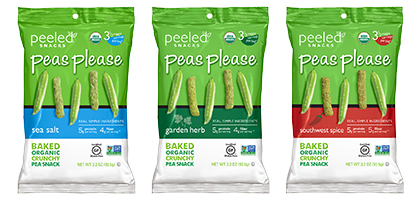 Introducing Peas Please
We are excited to introduce the launch of our new line, Peas Please! The first organic baked crunchy Pea snack, made with all-natural and wholesome ingredients. Please download our Press Release.